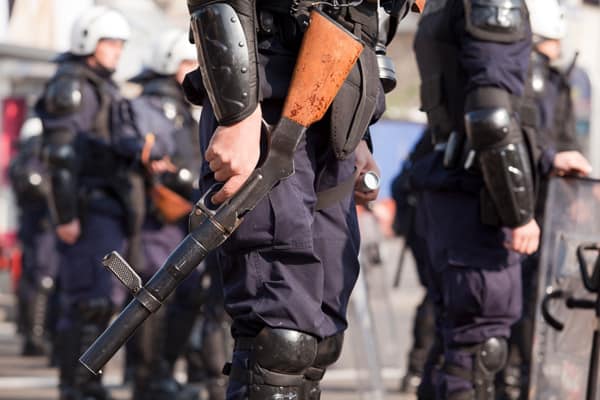 Chapter 06: Matthew 24:9-10
Verse 9 of Matthew's record of the discourse introduces a new category of conditions. While the first category of conditions was general–affecting the world in a general sort of way, this next category is selective, more individualistic or personal.
"Then they will deliver you to tribulation, and will kill you, and you will be hated by all nations on account of My name" (Matt. 24:9).
Utilizing the word "Then", verse 9 introduces a new phase, the next in a sequence of historical perspective. This phase follows after the one that culminated in verse 8 which we identified as "Beginning Birth Pangs". Though not expressly stated, verses 9 through 13 emphasize conditions that will exist during a new phase that begins with the Abomination of Desolation mentioned by the Lord in verse 15, which will be covered in detail later in our journey. This new phase will continue to be the historical reference point through verse 26. What term describes individual brothers and sisters in Christ who are selectively killed for their faith? We refer to them as martyrs; so we can now add "martyrdom" to our list of conditions that affect the saints of God.
There is a very important word in this verse that we need to look at more closely. The Greek word THLIPSIS means "affliction" and is often translated as either "tribulation", as in the NASB, or "persecution", as in the NIV. In my opinion the context of the passage dictates the better translation to be "persecution" because of important distinctions of these two English words. I suggest that "tribulation" best applies to general, indiscriminate affliction or calamity, which can be caused by any of a number of reasons. "Persecution" is selective, discriminatory, personal oppression inflicted by man upon his fellow man. These aren't hard and fast rules but in practice I find these distinctions to be quite accurate. Looking at the context of verse 9, if we desire to be as precise as possible while still being accurate, we discover the Lord telling us that after the period of beginning birth pangs His followers, believers, Christians, will be persecuted for their faith. This principle, as well as the Greek word THLIPSIS, will play a key role when studying future verses.
Who are the "they" in this verse? It appears to be in reference to "all nations", but that wouldn't include every nation, would it? What about the good ol' US of A? Surely it can't mean this great nation too, can it? Unfortunately I am not aware of any nation that believers can flee to for refuge during this most difficult period of history. It will be a totally unprecedented era that the followers of Christ will have to face.
What is the basic reason the Lord provides, that stimulates all this persecution? It is "on account of My name." Whose name is He referring to here–is it the name Jehovah, Yahweh or Elohim? Is it The Great I AM or El Shaddi or The Great God Almighty? The only name that fits the context is the name "Jesus Christ". Let's look at what the Apostle Paul wrote about this name.
Therefore also God highly exalted Him, and bestowed on Him the name which is above every name, that at the name of Jesus EVERY KNEE SHOULD BOW, of those who are in heaven, and on earth, and under the earth, and that every tongue should confess that Jesus Christ is Lord, to the glory of God the Father (Phil. 2:9-11).
There should be no doubt in anyone's mind that this period of persecution is stimulated for the reason that people professing to have a faith in the God-Man Jesus Christ and carry the title of Christian, are willing to suffer–even to the point of death rather than deny their Lord. The reason is not political, social, cultural or economical. It is not even "religious" in the biblical sense of the word. It is a spiritual reason; it is a spiritual issue.
It is especially true that during times when it appears the whole world has gone mad and God seems so distant, when our faith is challenged by formidable circumstances, the follower of Christ must maintain a strong and proper perspective. The Apostle Paul offers mighty and inspiring teaching that every believer of every generation would do well to entrench in his mind. Many a martyr for Christ has been emboldened by verses from Romans chapter 8.
Rom. 8vs. 18     For I consider that the sufferings of this present time are not worthy to be compared with the glory that is to be revealed to us. vs. 31     What shall we say to these things? If God be for us, who is against us? vs. 35    Who shall separate us from the love of Christ? Shall tribulation [THLIPSIS], or distress, or persecution, or famine, or nakedness, or peril, or sword?vs. 36     Just as it is written, "FOR THY SAKE WE ARE BEING PUT TO DEATH ALL DAY LONG; WE WERE CONSIDERED AS SHEEP TO BE SLAUGHTERED."vs. 37     But in all these things we overwhelmingly conquer through Him who loved us.vs. 38     For I am convinced that neither death, nor life, nor angels, nor principalities, nor things present, nor things to come, nor powers,vs. 39     nor height, nor depth, nor any other created thing, shall be able to separate us from the love of God, which is in Christ Jesus our Lord. (NASB)
These principles provide powerful resources to assist the Christian in withstanding any contingency in life. They are principles the wise develop before a crisis hits.
"And at that time many will fall away and will deliver up one another and hate one another" (Matt. 24:10) .
What is the "time" that Jesus is referring to? It is the time in which this martyrdom occurs, the period referred to as the Great Persecution/Tribulation.  It is the time that simultaneously all over the world Christians are being persecuted, martyred and hated by all nations. Who are the "many" and who are the "one another" in this verse? Those among the group of "professing" Christians and what might be referred to as the visible, organized church. These groupings contain both the true, genuine believer AND the imitation–someone who appears outwardly like a true follower of Christ; the real believer and the "faux"; the genuine diamond believer and the cubic zirconium impostor!
The point is, "at that time" many people who, until that time professed the Name of Christ, will "fall away". The English translation "fall away" comes from a form of the Greek word SKANDALIZO (pronounced: skan-da-lid'-zow). The English words scandal and scandalous are derived from this Greek word. While SKANDALIZO has numerous shades of meaning or nuance, the intention of the context of this passage infers that people who profess to be Christians will become "ensnared by some dilemma" that will result in "a cowering away in shame", according to Vine's Expository Dictionary. In this case it will be because of a supposed faith in Jesus Christ, Whom they will deny. They will "fall away"; they will "cower away"; it will be scandalous! Can you think of a classic biblical illustration of this type of dilemma that caused someone to stumble? The account of Peter's denials of Christ just before the crucifixion comes to my mind.
There is something else going on in verse 10. While some people become ensnared by some dilemma, stumbling and cowering away in shame on their own accord, others "deliver up one another"! A term we ascribe to someone that appears to be on our side but has actually been persuaded to work on behalf of our enemy is that of "traitor". The classic illustration of all time would be the betrayal of the Christ by His own disciple, Judas.
The third issue in verse 10 is that many who profess to be Christians or follow Christ will end up HATING one another. It is quite possible that the Apostle John had the Olivet discourse in mind as he wrote his first epistle. Let's take time to read some verses that indicate that right now.
I John 2vs. 7     Beloved, I am not writing a new commandment to you, but an old commandment which you have had from the beginning; the old commandment is the word which you have heard.vs. 8     On the other hand, I am writing a new commandment to you, which is true in Him and in you, because the darkness is passing away, and the true light is already shining.vs. 9     The one who says he is in the light and yet hates his brother is in the darkness until now.vs. 10     The one who loves his brother abides in the light and there is no cause for stumbling in him.vs. 11     But the one who hates his brother is in the darkness and walks in the darkness, and does not know where he is going because the darkness has blinded his eyes. vs. 22     Who is the liar but the one who denies that Jesus is the Christ? This is the antichrist, the one who denies the Father and the Son.vs. 23     Whoever denies the Son does not have the Father; the one who confesses the Son has the Father also.
28    

And now, little children, abide in Him, so that when He appears, we may have confidence, and not shrink away from Him in shame at His coming

[PAROUSIA].(NASB)
Do you see the link between what is revealed in Matthew 24:10 and John's instruction on distinguishing between a true and a false Christian? Do you see how John compliments what we have been studying in verses 9 and 10? Did you notice in verse 28 how John links the principles he developed in chapter 2 with the Olivet discourse and the PAROUSIA of Christ?
The next chapter of the journey looks at the final four verses of this paragraph. I hope you are finding refreshment for your diligence as we travel together.